3 Month Internship
Join a group of aspiring travellers and teachers alike on our renowned Cambodia TEFL Internship and witness a country like no other tourist could with 3 months living, teaching and falling in love with this incredible country.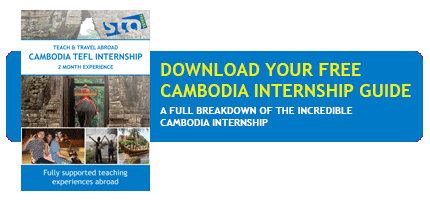 What's included...
120 hours of online TEFL training
Advice and preparation before departure
Airport pick up and transfers
Full orientation and training
Accommodation
12 weeks' practical teaching experience
Ongoing support
Certificate and professional reference on request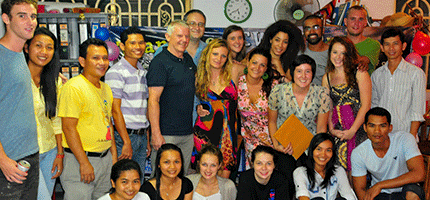 Day 1 - Arrival in Cambodia
Arrival at Phnom Penh airport. Arrivals between 6am & 8pm will have transfers to the Mekong Star hotel in Phnom Penh. A meal will be provided, and you'll be able to relax after your journey and get to know your fellow interns, or head off exploring this vibrant city!

Days 2 - 3 - Orientation in Phnom Penh
During your 2 day orientation you'll learn about Khmer culture, customs and history of Cambodia and be given some tips for great places to explore on your days off. It's also an invaluable chance to learn all there is to know about the internship and your role as an assistant teacher. Lunch will be provided on both days.

Days 4 - 84 - Your teaching experience
Transfer to your school, where you'll be teaching and living for the next 12 weeks. You'll be teaching at an American Bridge International private school, with students aged 3 to 16. Resources at the school are reasonable, and there's WiFi in the main building available for you to use. Your working hours will be 7.30am and 4.30pm Monday to Friday, with some opportunity for evening classes with older students (aged 16 to 25+). In Cambodia, there's a real lack of experienced English teachers, so many children learn the language by rote (repetition) and the school hopes that you, as interns, will bring improvements through engaging TEFL-style teaching. It's therefore really important that conversation and interactivity are common learning tools used regularly by interns.

Your accommodation will be shared with at least one other person, and will most likely be a converted room in the school complex. Weekends will be totally free, for you to spend exploring the local area, or just relaxing- it's totally up to you!
Day 85 - Transfer to Phnom Penh

At the end of your placement, you'll be transferred back to Phnom Penh for another meal and night's winding-down time at the Mekong Star.

Day 86 - Time to say goodbye!

There'll be help and advice on hand for those wanting to continue their travels in Cambodia and elsewhere!
Extra things to budget for:
International Flights: You'll require return flights to Phnom Penh International Airport (PNH).
Visas: $116 ($35 – 30 days + $81 for 90-day renewal).
Police check: You must carry a clean police check. For the UK you'll need to pay approximately £25 for a Disclosure Scotland. For all other countries, please consult your local police department (costs may vary).
Budget: We recommend budgeting approximately £20 / $25 - £40 / $50 a week spending money.
Travel insurance: this is really important – don't forget to sort yours before you travel!
Eligibility
Candidates must:
Be aged between 18-40
Be fluent in English
External accreditation is a very important element to consider when choosing your TEFL course provider and this course is delivered by an accredited provider. The certificate is regulated by Ofqual.