2 Month Internship
Join a group of ambitious interns and embark on a once in a lifetime opportunity to teach in Thailand on our Thailand TEFL Internship.

Starting in the ancient capital of Ayutthaya, you'll be totally immersed in Thai culture before heading out to teach in scenic Kanchanaburi for an epic teaching experience.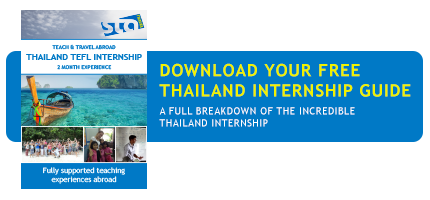 What's included
...
120 hours of online TEFL training
Advice and preparation before departure
Airport pick up and transfers
3 day orientation in Ayutthaya
Placement and accommodation in Kanchanaburi
Accommodation
Weekday school lunches
7 weeks' practical teaching experience
Full support from start to finish from in-country team
1 night stay in Bangkok
Certification of completed internship
Reference on request
Farewell dinner in Kanchanaburi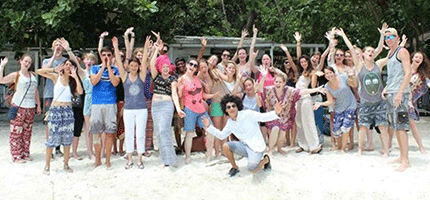 Before your adventure begins…
As soon as you hop on board the internship you can begin training using your online TEFL course, providing all the TEFL essentials you need for the adventure ahead. This will equip you with an accredited teaching qualification for life as well an assortment of practical skills to use in and out of the classroom.
The orientation
Your orientation will be held in the ancient capital of Thailand, Ayutthaya. Autthaya is the perfect location to acclimatise yourself amongst stunning surroundings while socialising and exploring with the other interns. It's also a chance to learn more about Thai education as well as Thailand's extraordinary culture. All accommodation and meals are provided during the orientation!
Your teaching experience
After your orientation you'll be transferred to Kanchanaburi, an area surrounded by forests, waterfalls and cultural landmarks. All our internship schools are in small towns and villages so the impact you have on your students will be invaluable. Your presence is a real privilege and the children are over the moon about the prospect of your arrival!
Accommodation is included during your time in Kanchanaburi and there are plenty of food outlets and convenience stores for you to sample delicious Thai cuisine. You will also receive full support from our in-country team including observed lessons and professional development. This all contributes towards your certificate upon completion of the internship – an essential addition to your CV.
Extra things to budget for:
International Flights: You'll require return flights to Bangkok International Airport (BKK).
Visas: Approximately £25 / $35 – details on booking, will need organising before you fly.
Police check: You must carry a clean police check. For the UK you'll need to pay approximately £25 for a Disclosure Scotland. For all other countries, please consult your local police department (costs may vary).
Budget: We recommend budgeting approximately £30/$50 a week for meals that aren't included.
Travel insurance: this is really important – don't forget to sort yours before you travel!
External accreditation is a very important element to consider when choosing your TEFL course provider and this course is delivered by an accredited provider. The certificate is regulated by Ofqual.